(1) View and manage volunteers - Select a signup sheet in Column 1 to view who has signed up, her contact info (email, phone number), and to remove a volunteer (Clear slot) if someone cancels. Also, download your signups here. The number to the right is how many people have signed up.
(2) Emails - To get the email addresses of people who have signed up. Copy and paste these into your email service (Gmail, Outlook, etc.) if you need to contact your volunteers.
(3) Reminders - To set up reminder emails for your volunteers. Here is what a reminder looks like.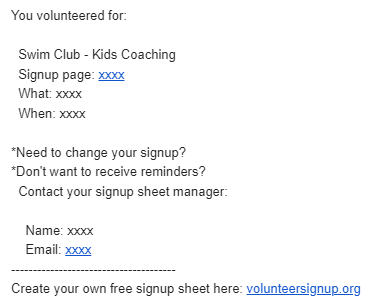 (4) Edit - To edit an existing sheet (text changes, add or remove rows, etc.)
(5) Copy - To create a copy of a signup sheet. This is a fast way to create a signup sheet for a recurring or repeat event. You can edit the copy to suit your needs.
(6) Deactivate - To suspend further signups. If a potential volunteer tries to sign up she will get a message stating the sheet is no longer active.
(7) Delete - To permanently delete a signup sheet.
(8) Show advanced features

Some organizations track volunteer credits (eg., hours). To track volunteer credits / hours do the following:
When creating a new signup sheet enter numbers into the "Credits" column. Credits normally refer to hours (though it can refer to whatever you want).

Later, select "Show advanced features" and checkmark the various signup sheets you want to determine volunteer credits / hours for.

Click the "Calculate volunteer credits" button to create a table that summarizes how many credit / hours each of your volunteers has.

To download a copy of the table for further manipulation in Excel (or any other spreadsheet app), click the "Download as CSV file (for Excel)" link.
---
4. FAQs/Tips/Tricks
1.
How do I remove a specific volunteer from a signup sheet?
Select sheet name > Clear Slot
2. How do I make an copy of a previous signup sheet?
Select Copy. How do I edit this copy? Select Edit
3.
Do I receive an email each time a volunteer sign ups?
No. By design, we do not send an email to the signup sheet manager each time a volunteer opportunity is filled because there could be many such emails and the email provider (e.g., Microsoft, Google, etc.) might mark us as "spammers" and block all emails we send. There are two ways to check your signups: (1) log in to your account or (2) click on the same link your volunteers do.
4. How can I add another column to a signup sheet?
By design, this is not possible (smart phones don't have room to display additional columns; keep in mind most volunteers sign up using their smart phones or other devices with tiny screens).
5.
If I can't add another column, how can I collect additional information from my volunteers when they sign up for a task?
A

. Ask your volunteers to write it after their last name when they sign up. Example: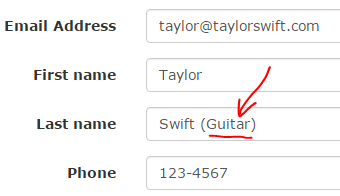 Put your instructions in the "Details" box when you create a signup sheet so your volunteers know what to do.
B

.
How can I gather T-shirt sizes?
Just add rows for that in your signup sheet, as shown below (or use method above).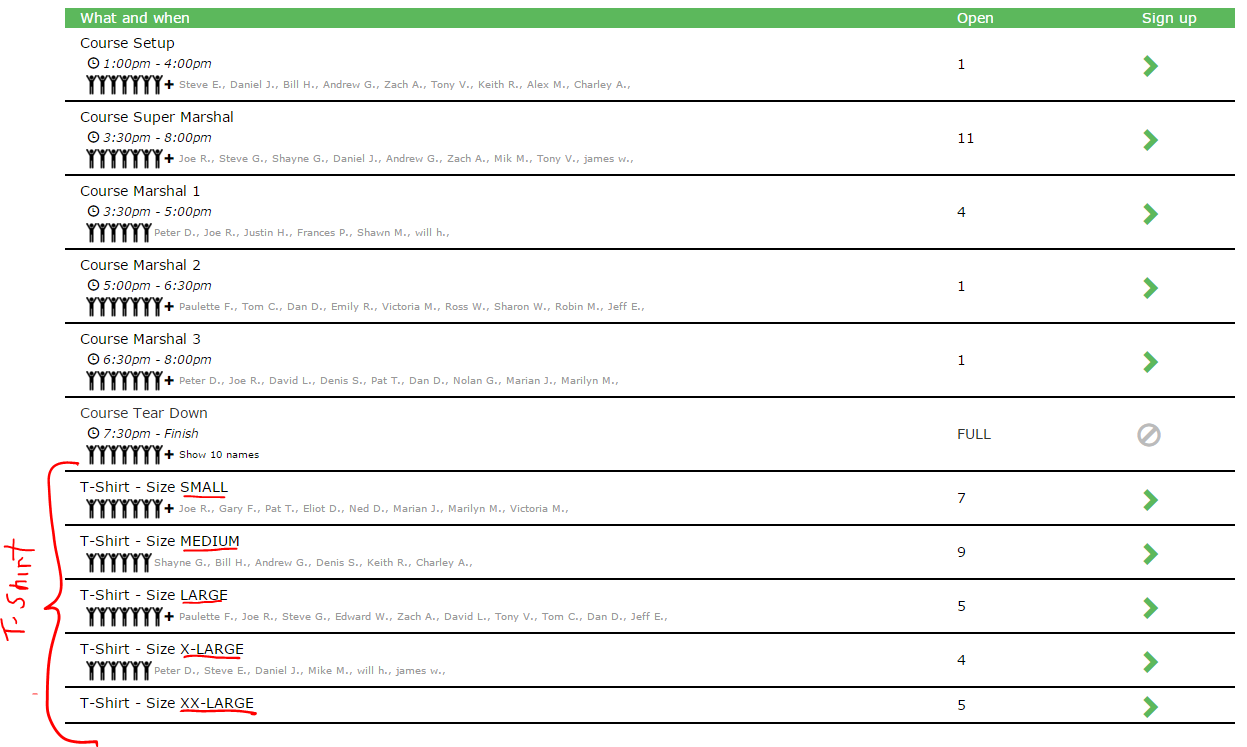 6. How do I embed a sheet in my organization's website? How can I give my volunteers the ability to edit the sheets? How do I add a waiver form to my signup sheet?
Sorry, you can't. Our mantra is

KEEP IT SIMPLE

. Too many features means confusion, bloat, and complexity (it is called "features creep" or "featuritis"...google it). We only add a new feature if it is a "must have" for the majority of our target users (small, volunteer-dependent groups without paid staff).