Create signup sheet now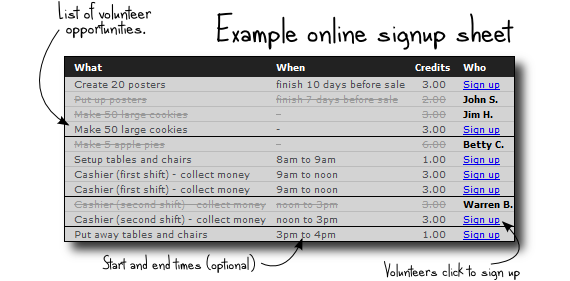 Welcome. This website is where volunteer coordinators can quickly create a free online signup sheet for functions and events such as bake sales, club events, walk-a-thons, creek cleanups, block parties, food drives, bike swaps or races, PTA activities, etc.
Creating a free online volunteer sign up form is very quick and easy.
With VolunteerSignup you can easily track volunteer hours, too.
Here is the overall process:
Create an online signup sheet
Email link to potential volunteers
Volunteers sign up (no registration required)
To learn more and see screenshots, click .
| | | |
| --- | --- | --- |
| | VolunteerSignup is provided as a completely free service, made by volunteers, for volunteers. It may be used by non-commercial, volunteer-supported organizations that provide social benefit. There are no ads or fees and we do not use your details for anything other than running the site. | |